Destiny Amythist Solstice is a main character throught the series. She is daughter of Richard and Harmony Solstice. A royal heir and a Magnetic soldier.
Before The War
Edit
Not much is yet known about her life before the war. It will be shown later on in the seriese.
Beginning Of The War
Edit
Destiny is first seen as a Water Tribe prisoner.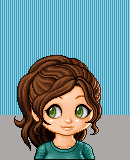 Ad blocker interference detected!
Wikia is a free-to-use site that makes money from advertising. We have a modified experience for viewers using ad blockers

Wikia is not accessible if you've made further modifications. Remove the custom ad blocker rule(s) and the page will load as expected.